As a result, food pantries are popping up in college campuses across the country, including Salt Lake Community College, Utah State University, the University of Utah, Southern Utah University, Dixie State University, and others (Brigham Young University refers students to LDS services).
One food resource that is often difficult for students to navigate is the Supplemental Nutrition Assistance Program (SNAP). Archaic rules disqualify many students, however the growing number of non-traditional students, students who work, students with children, and students receiving work study means that many Utah college students may qualify and not realize it. To help increase student awareness of SNAP, UAH partnered with the Thayne Center for Service and Learning at Salt Lake Community College to host a series of Food Access Workshops. These workshops were run by trained student SNAP navigators who helped students determine if they were eligible for SNAP, helped students complete SNAP applications, and provided them with other campus resources, such as the Bruins Food Pantry and the Campus Community Gardens.
We asked some of these SLCC navigators to share their experiences:
Eryn Johnson, SLCC student
"I loved the opportunity to be a part of the joint efforts of Utahns Against Hunger and the Thayne Center at SLCC. Food insecurity is a huge issue here in Utah, especially for college students. I thoroughly enjoyed helping to raise awareness of the multiple resources available to students, on and off campus. As a full time college student, I completely understand the financial strain and stress students are under. I have been extremely grateful for that support and it was rewarding to assist in spreading the word about the Bruin pantries, the SNAP program, and the campus gardens."
Isaac Bentley, SLCC student
"Food security is a major and common issue among college students. This is why Utahns Against Hunger teamed up with the Thayne center to provide an informative map for an otherwise complicated process for college students. I was able to help others get the support they needed in order to get the education they want. Although SNAP is not well known I was able to inform a few students on the support, like our campus gardens and food pantries that they have here at SLCC."

Emily Jessop, SLCC student
"Over the course of the past few weeks, the Thayne Center, SLCC Social Work Association, and Utahns Against Hunger have teamed up and had the opportunity to raise awareness about food access resources both at Salt Lake Community College and throughout the Salt Lake Valley. It was amazing being able to talk with students and connect with them over something as simple and complex as where your next meal might be coming from.
It was humbling to see such diversity in our college and made me thankful to know that I get to be apart of the culture of inclusivity at SLCC.
This experience has taught me valuable lessons in how hard it may be to ask for help when you need it, how difficult it can be to find the resources you need when you're in a tough spot, and how important it is to be an advocate for my peers."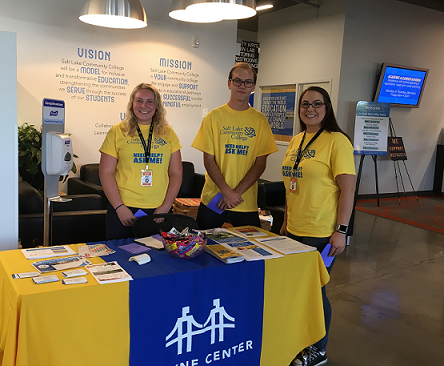 L to R: Emily, Isaac, Eryn

Rebecca Van Maren, Community Partnerships Coordinator at the Thayne Center for Service and Learning
"Working with Utahns Against Hunger was a great way for our campus to highlight the need and resources available to students. They were willing to fully collaborate, and were excited to piolit the program and explore ways to turn the idea into reality. Our Student Leaders in Civic Engagement alongside the Social Work Association did a great job weaving together the key information while striving to provide a positive, welcoming space. Students were continually surprised to find out about campus and community resources. The students who did show initial qualification for SNAP benefits also communicated relief in knowing that things didn't have to be as tight financially moving forward."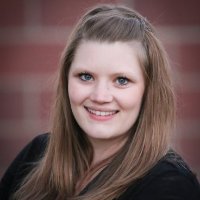 We are grateful for the Thayne Center for partnering with us, and are excited to move forward with them and other college campuses to make SNAP more accessible to students. If you are interested in having student navigators trained at your campus, contact Outreach Manager Melissa Jensen.