Melissa Bain, University of Utah
"This semester I had the opportunity to intern at Utahns Against Hunger with Melissa Jensen. We worked toward passing the bill H.B. 148: Tax Revisions. This bill would eliminate the grocery tax in Utah, helping so many low income families and people on a fixed income. Even though the bill died during the last week of the session, I loved having the opportunity to learn more about how the legislature in Utah works. I loved reaching out to the Senators and Representatives about H.B. 148 and researching all the reasons why this bill would be beneficial to Utahns. My favorite part about this experience was that I was able to combine something I'm already passionate about with something that I was interested in learning more about."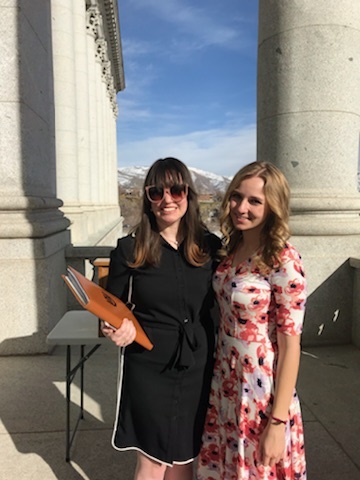 Joelle Mittanck, Brigham Young University
"I loved getting an inside peak into the hard work UAH does for Utah during my internship with them. They are passionate about their work and greatly impact the lives of Utah citizens. During my time there, I was able to contribute to their work of providing Utahns with anti hunger resources by focusing on addressing the low participation numbers of the school breakfast program in Utah. Some of these projects include: A written invitation to send to stakeholders throughout Utah inviting them to the Utah School Breakfast Week press conference on March 21st, a press release for the press conference and a press kit for the event. I also had the opportunity to write up a grant application to be used to cover the cost of printing the new breakfast report, Starting the Day Right: Best Practices for Increasing School Breakfast Participation in Utah Schools. Finally, I was able to help coordinate the use of money leftover from a school breakfast grant. This money was applied toward a gift or party of appreciation for Utah school staff who take on extra responsibilities to increase access to school breakfast for their students."